Blue cave diving point which okinawa diving club SAKURA is often using is Cape Ebida, but we also hold fan diving meeting !!
Because there are other little-known good points, in other places of the main island, apart of the indicated ones, please let us to know your desired place! Also fun diving leave it to us !
Spot map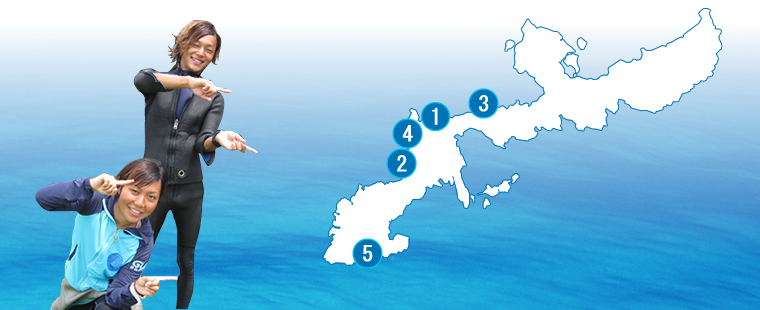 Maeda cape

Okinawa main island, famous as a sightseeing spot Maeda cape.
Actually it is very popular diving spot!! underwater, there are NEMO friend fish anemona,etc. like an aquarium image many tropical fishes will welcome you!
A representative diving point of Okinawa, such as blue cave is located here!!
Experience diving, fun diving is being holding at any time.

Sea wall (sunabe)

Popular beach point in the main island. Entry is easy and underwater has little flow, so even beginners can enjoy it. As far as you can see, the soft coral is growing en masse in this healing point.

Manza

Although it is a popular point as a tourist attraction, the dynamic topography is a masterpiece !!

Mizugama

Located in the sea along the Kadena air base, in the estuary of the Yeegu River. Since it is also a shallow point, even beginners can dive it. In addition, at this point there is soft coral, like in the sandy side of the Miyagi coast, so it is also seen as a spot for enjoying many kinds of tropical fishes!! Recommended for those who want to enjoy diving with leisure!!

Odo kaigon coast "John Man Beach"

A typical diving point in the southern part of Okinawa main island.
Mainly use it in winter.
Although it is a famous spot for surfing and diving, there are many small tropical fishes on the shallow areas and on the offshore there are scattered archs and caves, which it makes it a topography interesting point!! A good spot for experienced divers or fan divers!